Travel Luggage Bags - Best Travel Luggage Brand
---
Travel Luggage Bags - Best Travel Luggage Brand
Looking for the perfect travel companion in Dubai, UAE? Well, you're in luck. We are Lucky Power, your local suitcase supplier, and we've got just what you need. Our luggage travel bags are not only affordable but also built to last.
We know how important it is to have a reliable bag by your side when you're on the move. That's why our luggage travel bags are designed with both quality and cost in mind.
Choose Lucky Power, and you're not just getting a bag, you're investing in a resilient travel mate that's designed to journey with you through life, without burning a hole in your pocket. With us, you're always in good hands.
Luggage Travel Bags List
PP606 - A brilliant fusion of style, convenience, and durability, redefining your travel experience!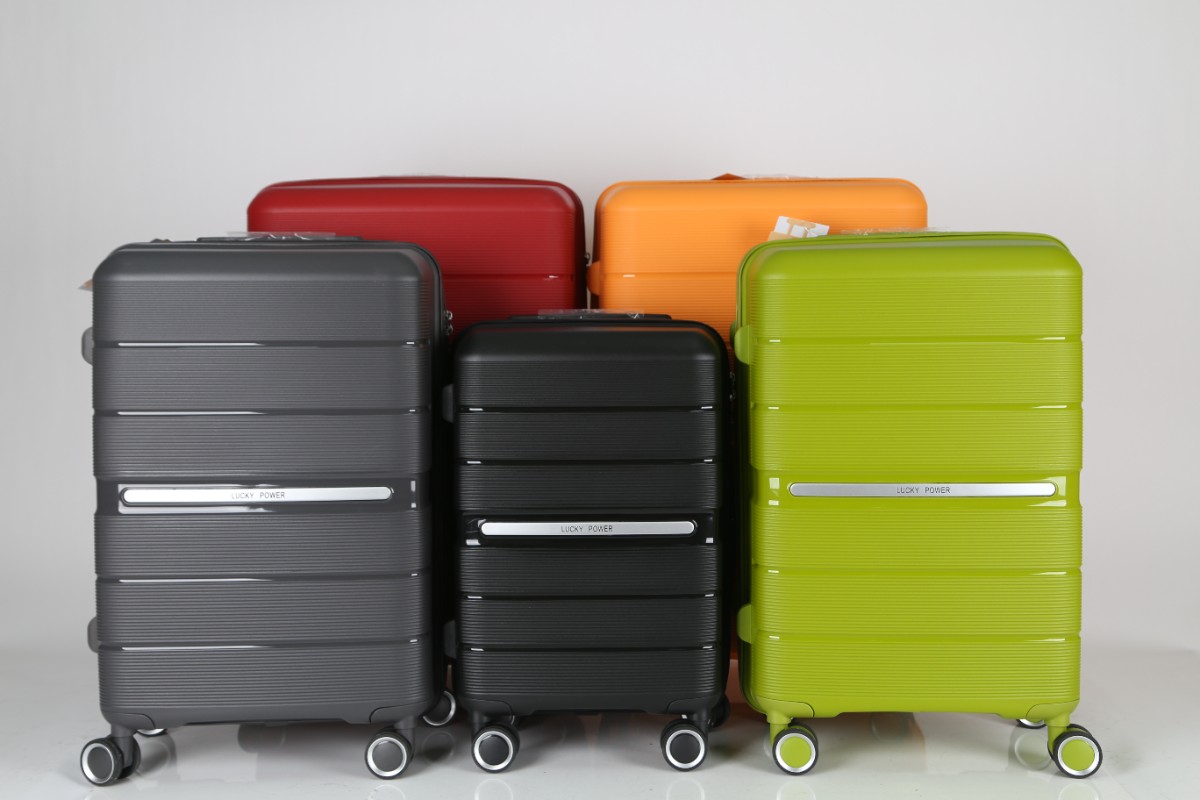 MODEL: PP606 BRAND: L&P SIZE: 20/24/28 COLOR: Black, Gray, Green, Orange and Red PRICE: Please contact us
A brilliant fusion of style, convenience, and durability, redefining your travel experience!
Unveiling our 2023 New Arrival, the PP606 - the epitome of modern design and functionality. This newly designed luggage travel bag by L&P comes in a palette of five stunning colors - sleek black, classic gray, vibrant green, zesty orange, and passionate red. Choose the one that best represents your personality or collect them all to mix and match with your travel wardrobe.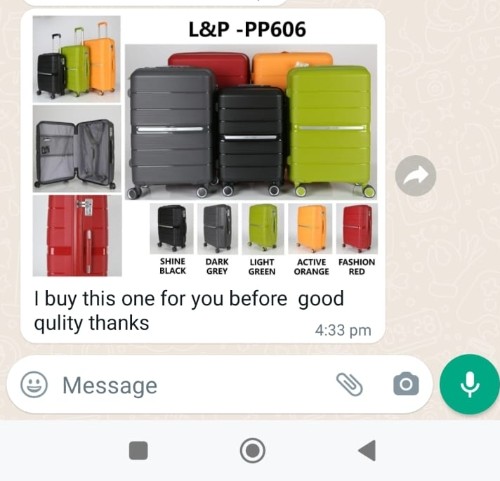 At first glance, the PP606 captures attention with its business-inspired aesthetics. The tech-savvy design language lends it a sophisticated and professional look, making it a perfect companion for both leisure and business travels.
What sets this luggage apart is the distinctive metal strip incorporated into its design, adding a touch of elegance and enhancing its overall appeal. This unique feature, combined with its minimalistic design, achieves an aesthetic balance that's simple yet far from ordinary.
We are confident that the PP606 will be a compelling choice for newcomers to the Lucky Power brand. Its blend of style, quality, and performance is set to redefine your travel expectations.
Experience the difference with the L&P Model PP606 luggage travel bag - where every journey begins with style and ends with satisfaction!
Wholesale Trolley Luggage travel Bag
You can contact us for luggage travel bags offers and prices by:
When contacting us, please tell us that you found about us from our website.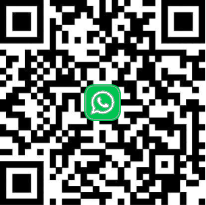 Luggage Suppliers: Others Products
ABS Luggage Sets
| Model | Price | Details | Image |
| --- | --- | --- | --- |
| 11166-PC | AED 150.00 | PC-20/24/28 | |
| M21 | AED 150.00 | PC-Match colors-20/24 | |
| 11188 | AED 140.00 | ABS-20/24/28 | |
EVA Air Luggage Sets
| Price | Details | Image |
| --- | --- | --- |
| AED 180.00 | EVA-2wheel 19/23/27/31 | |
| AED 205.00 | EVA-4wheel 19/23/27/31 | |
| AED 215.00 | Nylon-4wheel 20/24/28 | |
PP Luggage Sets
| Product | Price | Details | Image |
| --- | --- | --- | --- |
| PP06 | AED 210.00 | PP-20/24/28 | |
| PP014 | AED 225.00 | PP-14/20/24/28 | |
| PP023 | AED 220.00 | PP-20/24/28 | |
| PP024 | AED 230.00 | PP-double zipper 14/20/24/28 | |
FAQ
Which brand Luggage bag is best?
We won't claim we're the best out there, but we're striving to be. Since setting up shop back in 2006, we've been crafting quality luggage from the heart of mainland China. With over a decade under our belts, we've become a trusted supplier for numerous Amazon and Taobao stores, shipping more units than we can count.
Our ethos? Excellence in design, meticulous quality control. That's our DNA. That's what sets us apart. It's our culture, our commitment, and our promise to you.
But we're not just looking to churn out luggage. We're looking to earn your trust, your respect, your approval. So here's to one day being not just a supplier, but your go-to brand for all things luggage. After all, at Lucky Power, we're not just about moving luggage, we're about moving forward.
Why wholesale Luggage bags from us in Dubai
In the bustling city of Dubai, if you're on the hunt for bulk luggage bags, let us tell you why we, at Lucky Power, should be your first port of call.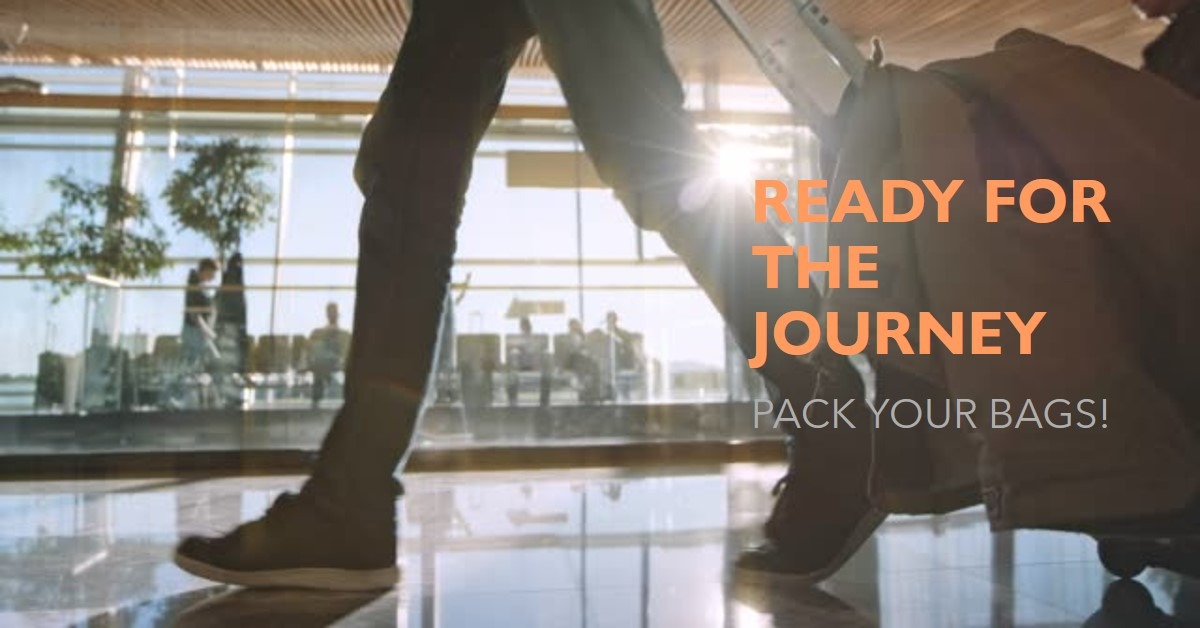 Variety is the spice of life, right? That's why we've stocked our shelves with a diverse array of luggage trolley bags. Different sizes, distinct styles, varied materials - we've got it all. Whether you're tightening the purse strings or splashing out on advanced features, we've got a bag for you.
Quality? Non-negotiable. We source our luggage from the most reputable manufacturers around. It's the only way we can ensure you're getting a bag that's sturdy, dependable, and ready for the road.
We know value is key. That's why our prices for wholesale luggage trolley bags are competitive. We're in the business of giving our customers bang for their buck.
And we're flexible. Need a specific number of bags? No problem. With us, there are no minimum order requirements. Just tell us what you need.
Customer service? It's at the heart of what we do. We're here to help, to answer your questions, to address your concerns. You've got a query, we've got a prompt and helpful response.
So if you're scouring Dubai for a bulk buy of luggage trolley bags, consider this: our diverse range of top-tier products, our competitive pricing, and our dedication to customer service make Lucky Power a prime choice for all your wholesale needs.
About US: Luggage Suppliers in Dubai, UAE
Welcome to contact us or visit our factory to browse and purchase our products. We would be more than happy to show you our wide range of products and answer any questions you may have.
Our team is dedicated to providing exceptional customer service and ensuring that you have a pleasant and satisfying shopping experience with us. Don't hesitate to get in touch with us and discover the quality and value of our products for yourself. We look forward to hearing from you and welcoming you to our factory.